Conventional soy farming in Colorado

After almost four hours of driving through flat, brown eastern Colorado—the last 10 miles all dusty, county roads—I was ready to get to where I was going: the Hasart farm, a 7,000-acre sprawl where Lester Hasart tends to 2,000 cattle, corn, wheat and, most importantly, soybeans.

It's sunny and breezy, warm for February. I park my little Honda in the dirt driveway and get out, doing a double take at a slimy creature roasting in the sun on the flatbed truck next to me. I cringe. Is that a dead dog? (Nope, just a skinned coyote, Hasart later told me.) Inside the house, a veritable cornucopia of dead antelope, deer and fowl leer at me from the walls.

Dixie, Lester's wife meets me at the door and welcomes me in. Lester isn't home from the fields yet, she says, but their four children certainly are. Their wide eyes follow me into the room, and I can see that I'm out of my element. To alleviate the tension I quickly begin explaining why I'm here: I want to understand exactly what it takes to grow an acre of soybeans.
By this time Lester Hasart, red-faced and pot-bellied, has come home from the fields for lunch. I explain myself again, hesitantly mentioning that my end goal is to calculate the carbon footprint of a pound of tofu. "This whole carbon footprint thing really rubs me the wrong way," says Hasart, affably. "What are people gonna eat?"
I was visiting the Hasart farm on the advice of a local agricultural extension specialist. Hasart, it seemed, was something of a soybean expert, but not in the organic, food-grade variety, and definitely not in the soybeans-are-good-for the-environment kind of way.
Lester Hasart began growing his beans 10 years ago. Now 51, Hasart grew up on these 7,000 acres, an expansion of the same plot of land his grandfather bought in 1912. More than 10 miles northwest of the tiny hamlet of Stratton, Colo. and 30 miles from the Kansas border, the farm has that middle-of-nowhere feel that you'd expect in the areas of the Midwest where soybeans are usually grown.
Even though he may not have agreed with what I was trying to do, Hasart was more than willing to share his passion for farming with me. We continued our conversation over lunch with his family (chicken noodle soup, complete with homemade noodles and farm-raised chicken) before venturing out to his fields.
Hasart's began growing soybeans to feed his 2,000 head of cattle; 75 percent of the United States' soybean crop sees the same fate. The remaining soybeans are crushed for oil or meal or made into biodiesel; a very small percentage is slowly moving into American diets in the form of soymilk, tofu and other soyfoods. But there's no tofu in site on this farm.
And there's also no talk of being organic. Still, Hasart has a certain respect for the beans, which he grows in rotation with corn. "What the soybeans do…it makes the soil so mellow," he says.
After finishing our lunch, we hop into Hasart's pick-up truck and head out to the February-barren fields that last held his soybean crop; he picks up a handful of the soil, encouraging me to do the same. I can feel the softness of the cool dirt. It does somehow feel mellow, especially compared to the denser, rougher soil of last year's corn patch. Something about the soybeans' root system or residue offers an ideal corn situation, he says.
In addition, soybeans leave behind a generous amount of nitrogen, on average one pound per bushel harvested, a boon to farmers who would otherwise pay for adequate synthetic nitrogen for their corn crop. To ensure he gets the right amount of nitrogen back, Hasart prepares the soil with an inoculant, the bacteria
Bradyrhizobium japonicum
, prior to soy planting. As the roots grow, tiny brown nodules—colonies of the bacteria—form on the soybean's roots, helping the plant fix nitrogen in the soil. To demonstrate, Hasart plucks a crusty brown soybean plant, missed by last year's combine, out of the ground; he brushes the dirt off and squeezes the nodule between his already dirty fingers. This is what nitrogen-fixing bacteria looks like.
At my urging, Hasart describes the rest of the machine-based preparation process. First comes the aptly named stalk chopper, which hacks up and buries the last of the corn stalks—the ones his dairy cows haven't already munched. The tiller and land finisher come next, further turning the soil and prepping it for planting. All together, the three machines require about 1.7 diesel gallons per acre, Hasart says.
Hasart's beans are RoundUp Ready, or genetically modified by Monsanto to resist RoundUp, their own brand of glyphosate herbicide. "GMOs have cut down the amount of pesticide and herbicide usage," says Joel Schneekloth, a water resource specialist from Colorado State University who praises the GM movement. "I grew up raising soybeans and cripes, you had to walk the things two to three times a year to get the weeds out. When they came out with genetic modification, they said it made the bad farmers look like the good farmers."
Indeed, Hasart's RoundUp acres yield 60-70 bushels an acre, almost 1.5 times the yield of an organic, non-GMO food-grade soybean farm. Hasart uses the latest RoundUp brand, Power Max, to kill off "volunteer" corn still hanging on from last year and any encroaching grasses. Then he starts planting.
Once the seeds are in the ground, Hasart begins watering the normally arid Colorado soil. "My biggest cost is pumping water for irrigation," says Hasart. At 400 gallons per minute, the soybeans are drenched in more than 50 million gallons of water during their three-month growing period. The energy used to pump that water from the water table? Some 29,000 kilowatt hours, costing more than $5,000, per month; that's as much electricity as 2.5 average homes use in one year. You don't have to wonder why farmers like Lester pray for rain.
Later in the season, when the plants are flowering, Hasart adds a growth regulator herbicide to stimulate blooming and encourage pod set. At the same time, if they look like they need another boost, he might add a few gallons of synthetic nitrogen.
In early September, when nights get cooler and damper but days are still warm and dry, the pods have a hard time keeping their shape with the moisture fluctuations. Hasart describes how the seams on the pods split open and the prized beans start falling to the dirt. "You can hear 'em dropping in the field," Hasart says, at which point he and his crew know they've got to get out there and start harvesting.
Powered by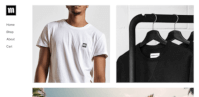 Create your own unique website with customizable templates.